---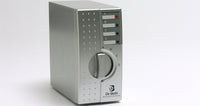 MoniSwitch, the Easy-Switch!
Executive Summary: Dr. Bott's MoniSwitch Pro DVI allows up to four (4) computers with digital video output to share a digital flat panel display or LCD-TV with DVI input.

Since its inauguration over 25 years ago, the MoniSwitch KVM product line has been setting standards in robust quality, trivial ease of use and complication-free compatibility.

MoniSwitch Pro DVI improves on the MoniSwitch DVI XGA, and was also the first true 4-port DVI KVM to flawlessly work at a resolution of 1920x1200. And MoniSwitch Pro DL goes farther still, supporting 2560 x 1560 pixels, the highest KVM resolution at the time of release.

Connections: MoniSwitch Pro DVI features the DVI and USB connectors on all ports. MoniSwitch Pro DVI does not limit the possible resolutions of a connected monitor in any way.

Cabling: For your convenience, MoniSwitch Pro DVI comes with all the DVI and USB cables needed to make your set-up work out of the box. We have taken special care to choose the highest quality video cable available, matching the excruciating demands of high-end displays from Apple Computer.

NOTE: MoniSwitch Pro DVI handles switching in the same way you would disconnect cables from one computer and reconnect them to the next computer - just a lot more comfortable!

Thousands of MoniSwitch users have come to rely upon the ease of use, the universal compatibility and legendary robustness since the original MoniSwitch first shipped in late 1995.

Space Saving: MoniSwitch Pro DVI allows you to share one monitor, keyboard and mouse between up to four computers, so you can reduce desk clutter and eliminate the "wrong mouse" issue.

Money Saving: MoniSwitch products allow you to leverage your monitor investment to get the most value out of your display. When compared with purchasing four seperate displays the MoniSwitch can save you a lot of money indeed!

Time Saving: MoniSwitch Pro DVI switches fast. The image comes up instantaneously, without warm-up time. The mouse follows a moment later - you probably took longer to read this sentence.

Configurations: MoniSwitch Pro DVI can be used with Macs or PCs, also in mixed configuration. The only requirement is a compatible DVI graphics card (at this time, there is no display that is known to be incompatible with MoniSwitch Pro DVI, Apple 30" Cinema Displays are supported by MoniSwitch Pro DL only).

Computers with ADC graphics cards can be included in a MoniSwitch Pro DVI setup with adapters from ADC to DVI.

Typical Uses: People have found many different applications for MoniSwitch. Some of the more common include those who are required to use both a Mac and PC - webmasters around the world speed their testing this way. MoniSwitch is also used in server rooms where each computer may only need to be accessed briefly during the day.

Finally, MoniSwitch makes its appearance in show rooms and trade shows, where multiple setups can be demonstrated at the flick of a switch - Steve Jobs of Apple Computer Inc. has been using MoniSwitch in his keynotes for the past several years.

MoniSwitch reduces the risk of confusion and error that increases when using multiple keyboards, mice and monitors. Obviously, MoniSwitch will save space and will allow redeployment of existing equipment or will save the cost of new equipment in such environments.

Compatibility:

MoniSwitch Pro DVI was tested with the 15" Apple Studio Display (DVI) and the 20" and 23" Apple ADC Cinema Displays (DVI) as well as select Formac displays with a DVI connector and many other digital DVI displays. LCD-TVs with DVI-D or DVI-I connectors work well, too. ADC displays are also compatible when used with a DVIator or an Apple DVI-ADC adapter. MoniSwitch Pro DL was tested with the Apple 30" Cinema HD Display.

All computers with DVI ports, such as the Power Macintosh G4 with AGP Graphics, all Power Macintosh G5 models and all PowerBooks with DVI ports are compatible. Intel-based computers are also compatible when used with a compatible video card with a digital DVI port. ADC graphics cards can also be used but require an optional ADC-DVI adapter.