---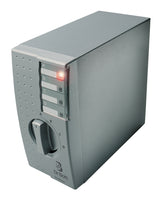 End of Life: MoniSwitch ADB is no longer available. We may be able to locate individual units in the future and will make these available for sale here when that happens.
MoniSwitch, the Easy-Switch!
NOTE: This is a legacy product from the turn of the century. Please check carefully before you buy whether this is appropriate for your configuration - if in doubt, please do not hesitate to send us a message with your configuration details!
Executive Summary:
Dr. Bott has taken the simplicity and ease of use of the original MoniSwitch and updated it for the current millennium.
Still a manual switching device, MoniSwitch/ADB is economical, easy to install, and great looking. And of course we have adressed those few shortcomings that did exist in the original model, too!
Configurations:
MoniSwitch/ADB is available in a 4-port configurations MoniSwitch4/ADB. Both configurations switch video and ADB ports simultaneously. MoniSwitch2/ADB allows sharing of one monitor, ADB mouse and keyboard between two computers, MoniSwitch4/ADB will do the same for up to 4 computers.
Video Connections:
MoniSwitch/ADB features standard video connectors to support either Mac standard DB15 monitors or HD15 (VGA) PC standard multisync monitors - both connectors are provided on the MoniSwitch. The MoniSwitch does not limit the possible resolutions of a connected monitor in any way.
The super premium video cables included in the standard MoniSwitch/ADB configuration allow direct connection to DB15 (Apple) standard video ports that are used on most legacy Macs including Apple's beige Power Mac G3s and most older models and 3rd party graphics cards.
ADB Connectors:
ADB mice and keyboards are connected directly to the ADB I/O port built-in to the MoniSwitch. MoniSwitch/ADB also includes ADB cables to connect to the ADB port built-in to the computer.
Cabling:
MoniSwitch/ADB comes with all necessary video and ADB cables (2 m, ca. 6 feet long). We have taken special care to choose the highest quality video cable available. This has a very special reason - image quality. Our cables do not degrade image quality in any way nor do they show characteristic shadows in the video image often seen with other cables. These cables are virtually lossless at the frequencies involved and will not further degrade visible image quality beyond what happens in the original cable.
The ADB connections also are of excellent quality. We have taken special care to ensure that a common phenomenon, the "hang" of the keyboard and the associated "freeze" of the mouse (both well-known from manually unplugging the ADB chain and transferring it to the next Mac with both Macs switched on) will not occur when using MoniSwitch/ADB.
Disclaimer: Do NOT try to unplug and replug ADB devices while your Mac is switched on. You may seriously damage your Mac up to the point that it requires a motherboard replacement.
Using MoniSwitch/ADB, however, such "live" switching will not damage your computer in any way and is in fact standard procedure that thousands of MoniSwitch users have come to rely upon since the
original MoniSwitch
first shipped in late 1995.
Typical Uses:
Usually MoniSwitch/ADB will get used in some kind of server room or server corner. Often such a setup makes use of several older Macs to distribute such tasks as receiving faxes, serving databases, file or domain names, waiting for incoming files via modem or ISDN connections and performing print serving tasks on several distinct Macs to distribute the load and enhance performance. By nature of these tasks each Mac will rarely be looked at for longer than a few minutes a day. MoniSwitch/ADB reduces the risk of confusion and error that increases when using multiple keyboards, mice and monitors. Obviously, MoniSwitch/ADB will save space and will allow redeployment of existing equipment or will save the cost of new equipment in such environments.
Compatibility:
MoniSwitch/ADB is compatible with all Macintosh computers and their clones with an ADB port (including older and newer blue-and-white G3 models) and without a private, built-in keyboard or mouse. PowerBooks, including Duo models, typically have a private built-in keyboard and trackball/trackpad. With these portable Macs and other, similar configurations MoniSwitch/ADB can only be used for video switching. For WallStreet PowerBook G3 models you might want to check out
MoniSwitch/USB
in combination with a USB CardBus card, older PowerBooks have no known workaround, though